Issue 7 / Spring 2017
Craig Foltz (US/NZ), Anna Crews (Aus), Rachel O'Neill, Eden Bradfield, Ursula Robinson Shaw (NZ/Aus), Owen Connors, Hana Pera Aoake, Rebecca Nash, Cat Fooks
Issue 6 / Autumn 2014
Hinemoana Baker, Craig Foltz, Zarah Butcher-McGunnigle, Paul Cunningham (USA), Rachel O'Neill, Alex Mitcalfe Wilson, Rebecca Nash, Erena Johnson, Shane Jesse Christmass (Aus), Elizabeth Welsh (NZ/UK), Darian Woods, Lauren Strain (NZ/UK), Celeste Oram & Chris Holdaway
Issue 5 / Spring 2013
Steven Toussaint, Joan Fleming, Andrew David King (USA), Lee Posna, Carolyn DeCarlo & Jackson Nieuwland (USA/NZ), Alex Taylor, Hanne Nielsen, Drew Boston (USA), Mikaela Nyman, Paul Gallagher, Diane Marie (UK), Bill Nelson, Rose Beasley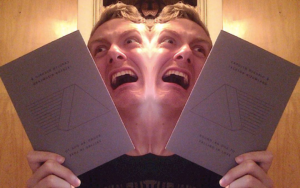 More Than Love: A Review of Bound
min-a-rets
July 8, 2015
"In the future (which isn't too far off now, about fifty years or so, I'd guess), the scientists of the world will study love. Love will be the only science left to discover anything new about. The oceans, space, time, all things macro & micro, will have been measured & graphed, understood to the nth degree. But love will still mystify. Carolyn DeCarlo & Jackson Nieuwland are (will be?) two of those scientists."
Steven Toussatin records Fiddlehead
Chris Holdaway
April 8, 2015
Compound Press published Fiddlehead, a long poem by Steven Toussaint, late in the Southern Hemisphere Summer of 2014 (April-ish). It has now gone out of print, but a really wonderful recording has been made of Steven reading the work in its entirety. This is great news for experiencing this poem, because one of the most compelling features that made the manuscript stand out to us was the presence of a refrain, repeated like semi-regular clockwork throughout.